Cabinetry and Shelving
.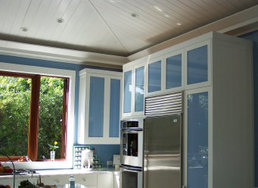 There is nothing more important in defining your kitchen space than your cabinet choices. True craftsmanship can be seen in each detail of these designs. Glass, painted or clear, is masterfullly balanced with wood and metal to create the perfect cabinet for your interior.
Glass shelving creates clean lines, preserves flow of light, and nurtures the feeling of spaciousness.
It's a smart choice for retail space and people who want to display their collections.
Contact
the artist for a consultation.
---